YOu don't have to be a celebrity to catch the eye of everyone – yes it can help but here are a couple of ways you'll get the results you are looking for.
Have you noticed how celebrities command attention? It's not just because they act in movies or have songs that top the charts, it's because they have style. When they walk into a party their visual aesthetic demands attention. If you want to command this kind of attention when you walk into a club, you need to have style.
More than any other piece of attire, shoes speak volumes about your fashion sense. Celebrity shoes are a good starting place to determining what types of shoes capture the attention of the men around you.
Go Bold or Go Home
What is it that sets Nicki Minaj or Lady Gaga apart? They don't play
it safe with fashion. They understand that to make a statement they have to blaze their own fashion trail. Refusing to compromise on an outfit speaks to self-confidence and individuality.
Their shoe selection reflects this as they utilize the boldly Demonia boots and Pleaser boots. Neither boot style shies away from visual punch; when people walk in Demonia high heel shoes or Pleaser heels, people notice.
Whether a celebrity (or you!) wears a regular t-shirt and shorts or a fancy dress with frills and swish, it is the high heel boots that make a bold statement.
Don't Go Home—Seriously
When you wear a bold style like Pleaser shoes or Demonia boots, you can't traipse around in them afraid of what people will think. If you're at a party in your booted high heel shoes trying to make a statement, you have to sell that statement with your body language.
When you go out in snazzy attire (whether shoes or clothes!) you can't go slinking around afraid that people will find your clothes weird. Celebrities don't slink. They proudly display their stylistic choices. Making a statement with fashion means allowing the inner you to shine—if you shrink from the spotlight you won't be able to convincingly own your chosen style.
Your Bold Statement Is No Big Deal
For people who admire stylistic decisions, a huge part of the appreciation is the belief that to the person wearing the clothes it is just another day, just another outfit. Even if it is your first party in new, audacious boots, play it off like its nothing.
There is a saying, "Act like you've been there before." And it's true. You can overshadow an impressive stylistic statement with outbursts meant to draw attention. However, don't undermine your shoes by saying blatant false modesty like, "What, these old things?"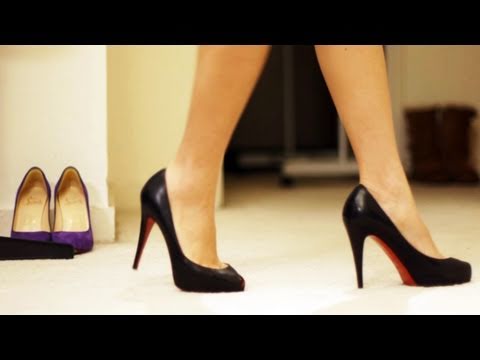 With a keen eye for style and the right attitude, you can catch the eye of everyone when you walk into a room—and capture some hearts in the process.